The Survey results are in from our recent Live, Online Workshop sponsored by DealersEdge:
100% Strongly Agree: The presenter communicated clearly
100% Strongly Agree: This Webinar was a valuable use of my time
100% Strongly Agree: It will be easy to apply the ideas that I received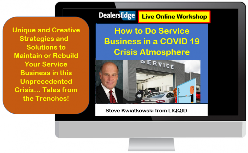 How Service Depts. are Adjusting to Doing Business During the COVID-19 Crisis
Presented by Steve Kwiatkowski
Your Peers Have Come Up With Creative Ways to Remain in the
Service Customer's Mind and to Alleviate Their Fears.
Steve has been talking to your fellow fixed ops managers… many of them… about how they are
faring during this difficult time. In these many conversations he has uncovered many unique and creative ways to overcome the barriers to the service business created by the attack of this virus.

This presentation will review ways in which other service departments have succeeded in keeping their business in operation and employees on the job. Whether you are open now, or planning on how to restart the business when the critical days past… All these ideas are worth considering… all the more so because your peers have already made them work.
Steve will Explore:
How to maintain customer communication – what to tell them – how to reach out to them
How to promote a "We're Open for Business" message
How to reassure the customer of your new cleaning regimens – Overcome their fears
How to organize and staff a Service Valet Concierge so that customers do not have to come to the dealership
How to employ under-utilized dealership employees in these efforts
How to organize a "mobile repair" unit to perform some simple service off campus
… all with a lot more "How To" detail